Welcome to the Home Pages of the Home Affairs Department of the Government of the Hong Kong Special Administrative Region.
As an executive arm of the Home Affairs Bureau, the department faces increasing challenges to provide quality services to the public. The fourth term District Councils, to which we provide administrative support, come into being on 1 January 2012. Our District Offices and the District Councils will continue to work together in embarking on a substantial number of community involvement projects and district minor works projects. We will continue to carry out minor local public works in the rural areas of the New Territories.
We will continue to foster communication between the people and the Government through a variety of channels and informal contacts, explaining and publicizing policies and services, and reflecting back to the Administration the community's reactions, perceptions and aspirations.
Our Home Pages give an insight into the principles which guide the actions of the Home Affairs Department. They set out our goals, the many services we provide, and an outline of the organizational structure through which we, with the support of the District Councils, deliver these services.
Once again, in the interest of promoting responsive and transparent government, I extend an invitation to you to let us have your comments and advice.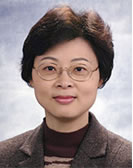 Mrs Pamela TAN, JP


Director of Home Affairs