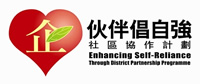 The Enhancing Self-Reliance Through District Partnership Programme (ESR Programme) has been established under the Home Affairs Department since 2006 in response to an initiative of the Commission on Poverty (CoP) to reinforce its work in preventing and alleviating poverty through a district-based approach. It has also taken into account the renewed emphasis on district partnership contained in the consultation document on Review on the Role, Functions and Composition of District Councils published on 27 April 2006. We believe that district-based projects and solutions can help identify local needs more precisely, mobilize community resources more effectively and create employment opportunities and support services on a more sustainable basis.
The ESR Programme provides seed grants for eligible organisations to set up social enterprises so as to promote sustainable poverty prevention and alleviation efforts at the district level that help enhance self-reliance, targeting socially disadvantaged groups. Instead of providing welfare or short-term relief, the ESR Programme aims at increasing the skills and capacities of the employable and providing job opportunities for the socially disadvantaged to upgrade themselves and to be effectively integrated into community.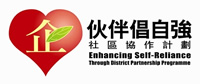 ESR Programme Logo
To enable better public understanding on the ESR Programme, it has been decided to give a new look to its logo from November 2012. The new logo depicts social enterprises under the Programme as "Caring Enterprises". The Chinese character "企" means "enterprise" indicating that social enterprise is operated in form of an enterprise. The green leaf symbolizes that social enterpises can grow sturdily (in Chinese "leaf" is "葉" which is pronounced alike "業" in "企業" that means "enterprise"). The red-heart-shaped logo represents love and care, which highlights the love and care shown by the social enterprises in providing job opportunities to the socially disadvantaged to help their integration into the community.
This icon embodies two key elements of a social enterprise, that is, its entrepreneurship and care. It implies that social enterprises, with their perseverance and heart to the socially disadvantaged, would grow sturdily, like a tree with thick foliage forming a good shade, benefiting the socially disadvantaged.
The logo will be displayed in the premises of "Caring Enterprises" of the ESR Programme so that the public can recognize them.
For more information about the social enterprises under the ESR Programme, please see the ESR Programme Project list.
The applicant should be a bona fide non-profit-making organization which shall be -
(a)
a statutory organization

or

an organization registered under the laws of the Hong Kong Special Administrative Region (e.g. the former Companies Ordinance (Cap. 32) / Companies Ordinance (Cap.622), the Societies Ordinance (Cap. 151), etc.);

and

(b)
an approved charitable institution and trust of a public character under section 88 of the Inland Revenue Ordinance (Cap. 112).
Starting from 2011, we will accept, on a trial basis, applications from non-profit-making organizations which do not have the tax exemption status under Section 88 of the Inland Revenue Ordinance (Cap. 112). However, these applicants are required to provide a duly completed prescribed supplementary proforma and submit supplementary information/documents supporting their non-profit-making nature, together with their application. Please refer to the 'Note for applicants' in this web page for the prescribed supplementary proforma, required supplementary information/documents and other application details.
Advisory Committee on Enhancing Self-Reliance Through District Partnership Programme
Terms of Reference
The Advisory Committee is established to -
| | |
| --- | --- |
| (a) | examine and recommend applications for funding; |
| | |
| (b) | monitor and evaluate the effectiveness of funded projects; and |
| | |
| (c) | advise the Permanent Secretary for Home Affairs on all matters related to the administration of the Programme. |
Membership

(1 July 2014 – 30 June 2016)
Chairman:
Mr SIU Chor-kee BBS MH JP
Membership:
Ms AU Chor-kwan, Ann
Ms AU Pui-yee, Teresa
Mr CHAN Cham-man, Simon
Ms CHAN Jo-win, Joanne
Mr CHENG Shing-lung, Edwin MH
Mrs CHEUK AU Ching-mei,Corona MH
Mr CHEUNG Hing-wah BBS
Ms FUNG Sau-yim, Maureen
Mr KWAN Chuk-fai MH JP
Mr LEE Man-bun, Edmond MH
Mr LEUNG Yuk-wai, Kenneth
Mr PAK Fu-hung, Frank JP
Mr PANG Woon-kei, Antony
Dr SHI Lop-tak, Allen MH JP
Prof SIN Yat-ming, Leo
Ms TAM Fung-chee
Ms WONG Sau-ying JP
Mr YEUNG Chuen-chow, Thomas
Mr YEUNG Po-kui, Ricky
Miss YIP Chun-chun, Ada
Mr YU Hon-kwan, Randy MH JP
Representative from the Home Affairs Bureau
Representative from the Home Affairs Department
Representative from the Labour Department
Representative from the Social Welfare Department
ESR Programme Project list (PDF)
Amount of grant and funding period
The funding ceiling for each approved project is $3 million. For applications submitted from 2011 onwards and subsequently approved, the maximum funding period will be extended from two years to three years.
The ESR Programme is open to application all year round, but deadlines are set on a half-yearly basis to enable the corresponding processing of applications in batches. The application timetable is :
| | |
| --- | --- |
| Phase 21 applications - | To be announced |
Please refer to the Application Guide to find out more about the ESR Programme, including the objectives, the assessment criteria, the financial arrangement and monitoring mechanism for approved projects.
Applications must be submitted in the specified Application Form. Please check the completeness of application based on the "Checklist of Documents Required for Submitting Applications" on page 1 of the Application Form. Application which has failed to provide all the required information will be considered as an invalid application and will not be further processed. Please click here to download the Application Form. Completed forms should be sent to the ESR Programme's Secretariat by post or email at the following address / email.
The Secretariat to the Enhancing Self-Reliance Through District Partnership Programme
Home Affairs Department
31/F, Southorn Centre
130 Hennessy Road
Wan Chai, Hong Kong
E-mail: esr_secretariat@had.gov.hk
We encourage applications involving fields of business which may tie in well with the prevailing government policies or the needs of the community. We will announce the fields of business for general information and will regularly review the business fields to be encouraged. The present fields of business encouraged include:
| | |
| --- | --- |
| (a) | business targeting the elderly : SEs that provide care services for elderly or involve useful engagement of the elderly |
| (b) | business targeting children and youth : SEs hiring youth, involving skill transfer to youth, providing useful engagement of the youth, providing care services for children, or for the betterment of disadvantaged children and youth; and |
| (c) | business contributing to the development of a green environment: e.g. waste reduction, recycling of waste and materials. |
Vetting of applications, whether or not in the above designated fields, would continue to be based on individual merits, and should meet the ESR Programme's objectives.
(a)

Forms and Guides / Notes for Applicants

Guidelines for Application

Application Guide (PDF) (Revised in 08/2014)

Note for applicants of non-profit-making organizations not under Section 88 of the Inland Revenue Ordinance (Cap. 112) (DOC) (PDF) (Revised in 04/2014)

Application Form

Application Form (DOC) (PDF) (Revised in 08/2014)

Sample Application Form (PDF) (Chinese version only)

Supplementary Information (applicable to "non-section 88 applicants") (DOC) (PDF) (04/2014)

(b)

Forms and Guides/Notes for Grantees

Guideline for Acknowledgment of Funding Support in Publicity Materials of Funded Social Enterprises (PDF) (11/2014)

Notes for Auditors of Grantees (DOC) (PDF) (Revised in 10/2013)

Guidelines on Disposal of Capital Items (PDF) (4/2010)

Payment

Authority for Payment to a Bank (GF179A) (PDF) (Revised in 7/2011)

Sample Authority for Payment to a Bank (PDF) and Sample letter (DOC) (PDF) (Revised in 10/2013)

Application for Capital Expenditure Reimbursement (DOC) (PDF) (Revised in 4/2013)

Sample Application for Capital Expenditure Reimbursement (PDF) (Chinese version only) (Revised in 4/2013)

Application for Reimbursement of Auditors' Remuneration (DOC) (PDF) (Revised in 03/2013)

Report

Half-yearly / Annual Performance Report Template (DOC) (Revised in 08/2014)
Corruption Prevention Best Practices
The Corruption Prevention Department of the Independent Commission Against Corruption (ICAC) has developed a set of Best Practice Modules on how to plug corruption loopholes. Appended below the more relevant ones to the Programme grantees. If you would like to know more about corruption prevention guides and practices, you can visit the ICAC website at www.icac.org.hk.
Briefing
A number of briefings have been held to brief non-governmental organizations on various topics of the ESR Programme. The relevant briefing materials are appended below -
Visits to Social Enterprises by the Advisory Committee of the ESR Programme
To understand the progress of the social enterprise projects approved under the ESR Programme, the Advisory Committee, together with the ESR Secretariat, would visit the social enterprises on regular basis. During the visits, Members of the Committee would normally exchange views with the social enterprise operators and suggest improvement measures on matters relating to business strategies, daily operation, management and promotion, etc of the social enterprise concerned.
Promotional Activities
The social enterprises under the ESR Programme SEs have been arranged to participate in various fairs to promote their products and services as well as to enhance people's knowledge on them. The attractive and popular fairs with their participation can be found here.
ESR Programme Newsletter
The Government's dedicated website on Social Enterprises
Email Address:
esr_secretariat@had.gov.hk
Tel No.:
2835 1383
Address:
The Secretariat to the Enhancing Self-Reliance Through District Partnership Programme
Home Affairs Department
31/F, Southorn Centre
130 Hennessy Road
Wan Chai, Hong Kong