Building a caring society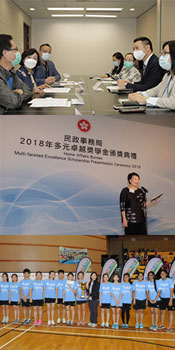 We will continue to proactively reach out to the community, listen to public views, understand people's aspirations and better serve our community. We will further strengthen interaction with the community through district visits and other existing channels. We will also continue to reflect back to the Administration the community's reactions, perceptions and aspirations. For further details on our contacts with the community, please visit the following links:
Activities Archive
It is Government policy to place people with disabilities in appropriate jobs wherever possible, a policy fully followed by the Home Affairs Department. To show its commitment to supporting the employment of people with disabilities, our Department has signed the Talent-Wise Employment Charter and joined the Inclusive Organisations Recognition Scheme. The charter seeks to engage employers of all trades and sectors in providing more internship and employment opportunities for people with disabilities, thereby unleashing those people's potential, enabling their self-reliance, fostering social integration and building a caring and supportive society for all.
As at 31 March 2017, the Department had 70 civil servants with disabilities, representing 3.49% of the civil servants in our Department.