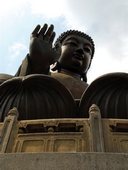 Islands District consists of more than twenty large and small islands lying to the south and southwest of Hong Kong Island. As part of the New Territories, Islands District has a long history. The larger islands include the Lantau Island, Lamma Island, Cheung Chau and Peng Chau. Among the 18 administrative districts in Hong Kong, Islands District is the largest in terms of area.
Islands District has a population of around 156 800 with the majority of which living in Tung Chung New Town, while the rest live in Cheung Chau, Peng Chau, Lamma Island, Tai O, Mui Wo, Tung Chung, South Lantau, and Discovery Bay, etc.
Islands District is filled with famous attractions, which included the Hong Kong Disneyland, Ngong Ping 360 and the Big Buddha. Its unparalleled natural scenery and coastal landscape have been a draw for local people and foreign visitors. In addition, the unique features of festive events organised by local residents, such as Cheung Chau Bun Festival and floating colours parade, all have attracted large numbers of visitors every year.
Tung Chung New Town Extension (TCNTE) Project was included in 2014, 2015 and 2016 Policy Address as a key measure to increase land supply. The proposed TCNTE will cover areas on the eastern and western flanks of the existing Tung Chung New Town and is expected to provide close to 50 000 residential flats. Land has been reserved in the extension area for commercial, recreational, educational and community uses. Reclamation and advance works of TCNTE commenced in December 2017, which mainly comprise reclamation of the seabed by a non-dredged method to form a total of 130 hectares of land and implementation of associated environmental mitigation measures. It is also the first public works project to adopt the design of eco-shorelines.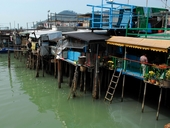 The Government announced the Sustainable Lantau Blueprint in 2017 which embraces the principle of "Development in the North; Conservation for the South". It is committed to promoting ecological and cultural conservation of the rural areas of Lantau, including setting up a $1 billion Lantau Conservation Fund, conducting various studies relating to ecological and cultural conservation, and promoting sustainable leisure and recreation activities such as the Lantau Trails and Recreation Plan. For more details of TCNTE and Lantau conservation, please visit the website of the Sustainable Lantau Office of the Civil Engineering and Development Department.
Top