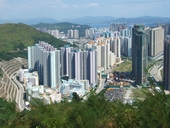 Sai Kung district, situated at the South East New Territories development region, consists of Sai Kung Town, Sai Kung rural areas, Hang Hau, Tseung Kwan O New Town and over 70 islands of various sizes. With a total area of about 12 680 hectares, it is the second largest administrative district in Hong Kong. According to the Projections of Population Distribution, 2007-2016 prepared by the Planning Department, there was a population of 410 000 at Sai Kung in 2007. Most of them live in Tseung Kwan O New Town while the rest reside at Sai Kung Town and its rural areas.
Since Sai Kung comprises the rural areas and Tseung Kwan O New Town, there are different types of housing in the district. The rural areas are widely scattered with village houses of low density, while the New Town is designed to cater for the growth of population with multi-storey buildings of private and public housing estates.
With regard to public transport, Sai Kung is served with railway (serving the Tseung Kwan O New Town), public light buses and green minibuses. The main thoroughfares include Sai Sha Road, Hiram's Highway and Clear Water Bay Road within the district, and Tseung Kwan O Tunnel Road and Po Lam Road as external connections.
The Sai Kung District Office continues to play a crucial role to bridge between the Government and the residents by collecting and conveying the local community's views to the government departments concerned. Besides, the Sai Kung District Council (SKDC) also plays an important part in the district. There are a total of 29 elected, ex-officio and appointed members in the current SKDC. Representing various sectors and political parties, they assist the Government to implement district administration. In 2007, the SKDC set up the District Facilities Management Committee. By steering and overseeing the management of some district facilities, the Committee strives to ensure the effective provision and efficient use of the facilities, with a view to benefiting the local community.
Top