Bedspace Apartments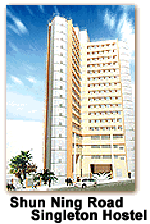 Introduction
Under the Bedspace Apartments Ordinance,
"Bedspace" means any floor space, bed, bunk or sleeping facility used or intended to be used as sleeping accommodation for an individual while
"Bedspace apartment" means any flat; or where the partitioning wall or walls between two or more adjoining flats which has or have been demolished, in which there are 12 or more bedspaces occupied or intended to be occupied under rental agreements, and for the purpose of determining whether any flat constitutes a bedspace apartment, the existence of partitions in the flats shall be disregarded. Bedspace apartments will not be permitted in industrial buildings or in basements.
Application for a Licence
Any proposed establishments will have to apply for a licence from the Authority before commencing operation. Licences are subject to an annual renewal. Holders of a licence should apply for a renewal not less than 3 months prior to the expiry of the licence.
It is also the responsibility of the applicant to ensure that his premises do comply with the lease conditions, Deed of Mutual Covenant and other legislation.
HAD's Singleton Hostels
Government is committed to offering rehousing arrangements to any registered bedspace apartment lodgers who are rendered homeless as a result of the licensing scheme. To this end, HAD is running a singleton hostel programme to provide alternative accommodation to displaced lodgers under 60 years of age. Those lodgers rendered homeless who are over 60 years old or with social or medical needs will be offered compassionate rehousing or admission into welfare institutions.
Our singleton hostel programme provides 580 bedspaces in 2 purpose-built singleton hostels. One of these is a multi-storey building "Sunrise House" which has been built on Shun Ning Road, Sham Shui Po. The hostel, with a capacity for 310 lodgers, commenced operation in September 1998 and is being managed by the Salvation Army. Another purpose-built singleton hostel "High Street House" has been built in High Street, Sai Ying Pun. The hostel started operation in October 2001 and provides accommodation for 270 lodgers. The hostel is being managed by the Neighbourhood Advice-Action Council.
How to apply for a licence
Application forms can be obtained from the Office of the Licensing Authority or downloaded from the Home Affairs Department's website of http://www.had.gov.hk/en/other_information/forms.htm. Completed forms are to be returned to the address as stated on the application forms. Please refer to the Common Problems for more details.
Applications in electronic form
Pursuant to the enactment of the Electronic Transactions Ordinance, applications for new issue / renewal / transfer of a licence in electronic form would be accepted by the Authority at the following address with effect from 7 April 2000: hadlaenq@had.gov.hk
Click here to see the general format, manner and procedure for submission of electronic information.
Register of Licensed Bedspace Apartments
For information on licensed bedspace apartments, please visit http://www.hadla.gov.hk